Christian Huitema
Interest:Books:Information:Comments:
.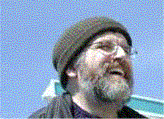 This site contains information on the books that I wrote, a list of pointers on my current interests, in particular IPv6, Internet telephony and SIP, how we can measure the growth and the quality of the Internet, and more generally what are the current themes of Internet Research. I also include here a description of the Internet Society and the Internet standard process.
In case anyone cares, the site also contains a short biography and a list of publications and talks, as well as contact information, and a pointer to my MSN Spaces discussion site.